ABOUT US
As the world continues to change at an ever accelerating pace it becomes more important to take moments to slow down and reflect. Getting back to nature and surrounding yourself with natural beauty is the best way to slow down. On Twin Lakes offers a natural beautiful setting to host weddings / events, go for a ride, or buy farm fresh food. We have been blessed with an amazing piece of God's green earth, and we want to share that with everyone we can.
Weddings and events at On Twin Lakes take advantage of our beautiful natural setting, large event barn, and outdoor settings for guests to enjoy. We separate ourselves from other venues by allowing each couple to create their own unique event, from authentic western to elegant affairs. We will give you the time and space to create something special, and we'll help you every step of the way.
In our desire to make sure everyone, truly everyone, is able to have their special day, we welcome same-sex couples as well. We celebrate the recent rulings that make marriage open to all. You love each other and want to share that love with family and friends, and we want to share in your joy.
For those looking to have some equine fun, On Twin Lakes offers horse-drawn wagon / sleigh rides, riding trails, and camping. Come explore our 400+ acres of pristine farm land, woods, and lakes on groomed trails.
Hungry? On Twin Lakes has naturally raised vegetables and beef. Famous for our sweetcorn, we have been supplying the local area with farm fresh produce for 4 generations. Our beef is grass-fed, hormone free beulingo that can be purchased by the cut or quarter/half/whole animal.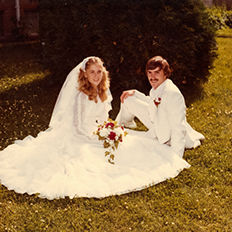 OUR STORY
On Twin Lakes farm started out as Hillcrest Acres Dairy in 1939, when Anton & Rose Brunclik (John's grandparents) purchased the land and moved from Haugen. John's parents, William (Bill) & Audrey Brunclik, farmed with Anton & Rose, from 1949-1956, when they took over the farm. Bill & Audrey had 6 children, John being the second youngest.
We (John & Rose) were married in 1980. We farmed with Bill & Audrey while purchasing the farm from them. In 1995 we started to raise beef animals in addition to the dairy & vegetable business. Over time we transitioned to beef & vegetables only.
In 2009 our son Todd came to us and told us he had proposed and asked if he could have his wedding reception on the home farm. We went to work to get the barn on the hill ready for the celebration, adding a bar area, 2 patios, and a dance floor. In 2010 our youngest son Kirby had his wedding at the farm as well, sparking even more improvements to the facilities. Both events were amazing and so memorable that many of the guests encouraged us to allow others to have their weddings and receptions at On Twin Lakes.
As we opened our venue to the public, we realized much of what we have always cherished about our farm: natural beauty, childlike fun (see wiffle ball field), and the ability of the space to feel both elegant and comfortable, were what others were looking for as well. We hope you'll be a part of our continued journey On Twin Lakes.